This evening I decided to have a look at robins school and it's quite nice the way she set everything up and very colorful.
It was also nice to see her patiently explaining things to parents and students, so I guess she won't run away from me.... I really hope I'm easier to deal with than a couple of nine year old.

Well for dinner I decided to make a common dish when I was a kid. So what could this be?

Cauliflower with sauce hollandaise, parsley potatos and tiny steaks.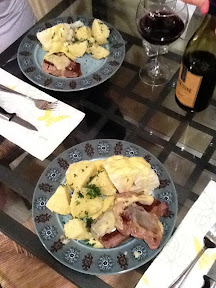 And the iPad camera is terrible...
- Posted using BlogPress from my iPad
Location:H St,Sacramento,United States